Nourishing body oil
A 100% natural, luxurious and nourishing body oil for the whole family.
Embrace nourishing body oil is rich in emollient, natural and organic oils, packed with beneficial fatty acids, vitamins and antioxidants that strengthen and protect the skin.
Absorbs easily and leaves the skin silky soft - without any greasiness!
Hero ingredients

APRICOT KERNEL OIL - A lightweight oil that is easily absorbed into the skin. It contains essential fatty acids, including oleic and linoleic acids, which help to retain the skin's natural moisture and prevent moisture loss. This leaves the skin soft, smooth and nourished. Apricot kernel oil is rich in vitamins and antioxidants, including vitamins E, A and C, which help protect and nourish the skin. These nutrients are helpful in improving skin elasticity, preventing early signs of aging and soothing irritated skin. Due to its composition of fatty acids and antioxidants, apricot kernel oil also has anti-inflammatory properties. It can help relieve inflammation and soothe sensitive or irritated skin. This means that EMBRACE, with its high content of apricot kernel oil, can help improve skin's appearance and give a natural glow. It has a light formula, making it ideal for softening and evening out skin tone, as well as reducing the visibility of fine lines and wrinkles.

OAT KERNEL OIL - Known for its soothing properties that can relieve itching, irritation and redness of the skin. Rich in lipids, including phospholipids and triglycerides that help retain the skin's natural moisture and prevent dehydration. It also has natural polysaccharides that form a protective film on the skin and contribute to reducing moisture loss. Anti-inflammatory properties: Oat kernel oil contains avenanthramide, a natural compound with proven anti-inflammatory properties. Oat kernel oil also has ceramides, which are important lipids that are naturally found in the skin's barrier. These ceramides contribute to strengthening and rebuilding the skin barrier, which is essential for maintaining healthy and protected skin. By improving the skin barrier, oat kernel oil helps to reduce moisture loss and protect the skin from harmful external factors. In addition, oat kernel oil is rich in antioxidants, including tocopherols (vitamin E), phenolic acids and flavonoids. These antioxidants help protect the skin from damage from free radicals and contribute to maintaining the skin's youthful appearance.

CASTOR OIL - Rich in fatty acids, including ricinoleic acid, which helps retain and seal moisture in the skin. This makes it ideal for moisturizing and softening dry and dehydrated skin. Castor oil has soothing properties and can help reduce inflammation and calm irritated skin. It can be useful for relieving itching, redness and minor skin irritations. Castor oil has natural cleansing properties and can help remove dirt, oil and impurities from the skin. It can also be effective in unclogging pores and preventing the development of pimples and acne.

How to

Treat your skin to the ultimate experience of well-being by using this exclusive oil. Apply the oil to clean, preferably slightly damp skin to experience its wonderful softening and smoothing effects. By simply pumping the oil into your hands and massaging it into the preferred areas of the skin, you will treat your skin to an absorbent and nourishing experience. For optimal moisture and care, we recommend using the oil daily. When preparing a bath - for yourself or your children - you can add a few drops of Embrace to the water to enjoy a feeling of wonderfully soft skin afterwards.
Favorite of...

Embrace is particularly popular to use for...

- Dry, bumpy or blemish-prone skin.
- "Strawberry legs".
- Pregnant women.
- Postpartum bodies.
- Extremely dry skin.
- Problematic skin, for example psoriasis.
- Daily care for the ultimate feeling of well-being.

ingredients

Caprylic/Capric Triglyceride, Prunus Armeniaca Kernel Oil, Ricinus Communis Seed Oil, Triticum Vulgare Germ Oil, Avena Sativa Kernel Oil, Salicornia Herbacea Extract
100% Natural ingredients

Contains 100 ml
En fløjlsblød hud
Embrace er fantastisk til at tilføre fugt til huden,uden at fedte. Jeg bruger det selv på kroppen, og har foræret det til både unge og ældre.
I sær hos ældre hjælper det på elasticiteten i huden, og de får ikke så hurtigt sår og afskrabninger. Embrace har min varmeste anbefaling sammen med alle produkter fra Cana Care.
Jeg gav EMBRACE kropsolie en chance, da jeg døjer med en mild form for psoriasis og håndeksem. Allerede efter 1 uges brug kunne jeg se og mærke en forskel. Min hud blev meget pænere og de skallende pletter forsvandt lige så stille. Nu er den fast inventar i mit hjem! Hvis jeg bruger den morgen og aften kan jeg faktisk slippe for at bruge den hormoncreme jeg normalt bruger for min psoriasis. Den trænger super hurtigt ind og er helt uundværlig for mig. Den får mine varmeste anbefalinger.
Jeg har snart brugt 2 flasker af jeres EMBRACE kropsolie, og jeg elsker den! Den trænger hurtigt ind og efterlader min hud så lækker og blød - det er næsten som at smøre min krop ind i kærlighed. Tak for at have lavet et virkelig godt produkt! Mange anbefalinger fra mig.
About this product
The skin is the largest organ in the human body, which is why it's important that we take good care of it. Our skin is with us our entire life, and it deserves only the best!

Embrace from Cana Care is a nourishing body oil that can be used by the whole family. Our unique blend of nourishing oils will soften the skin and help to maintain its normal moisture balance. The synergistic effect of our combination of beneficial oils will strengthen the skin's elasticity and suppleness, so that moisturized skin will not only feel smoother, it will likely look smoother too.

Along with Embrace nourishing body oil, we also recommend Repair, which is excellent for redness, atopic skin, minor skin irritations, etc.
This product contains no perfume, but has a light scent from nature's own ingredients.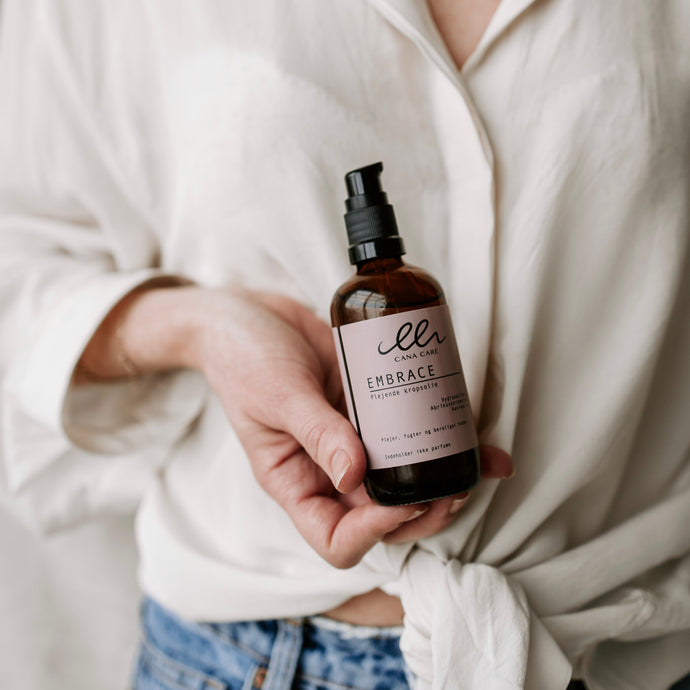 Studies show
A 2018 study published in the International Journal of Cosmetic Science examined the link between skincare product use and women's wellbeing. The results showed that women's perception of their own beauty and well-being improved with the use of personal care products, as they felt more refreshed, confident and satisfied with their appearance.