magnesium serum
Moisturizing and nourishing serum that is sprayed directly onto the skin for improved calmness and well-being. Rich in magnesium, which in addition to being an important contributor to skin maintenance, is also known to help reduce restlessness and improve sleep.
This product does not contain perfume.
Contains 100 ml
Hero ingredients

MAGNESIUM
This salty mineral is an important contributor to skin maintenance. In addition to supporting the skin's natural balance, magnesium also contributes to hundreds of different processes in the body. Among other things, magnesium is essential for muscle restitution, bone and teeth maintenance and as a catalyst for optimal calcium absorption in the body. You can read much more about magnesium HERE.

ALOE BARBADENSIS LEAF EXTRACT - This (organic) Aloe vera has excellent moisturizing properties and helps to maintain a healthy moisture balance in the skin and thus a healthy skin barrier. Due to its brilliant reputation and great benefits, Aloe vera has been used in cosmetics and skincare for many years and has become a symbol of health and well-being.

CUCUMIS SATIVUS FRUIT EXTRACT - An (organic) cucumber extract. Traditionally, cucumber slices have been used in homemade face masks and treatments around the eye area as it contains a variety of natural nutrients. It has great moisturizing properties that help keep the skin supple and elastic.

How to

Use two or three sprays on the area you want to add magnesium to and massage it gently and thoroughly into the skin. Use after a warm and soothing bath for maximum relaxation effect.

Some people may experience a slight tingling sensation on their skin; this is due to the high salt content and is not at all dangerous – quite the opposite. To reduce the tingling sensation, you can apply the product to wet skin and apply a mild lotion or nice oil afterwards.

NOTE: Do not use the product on cuts/wounds or freshly shaved legs - the salt can cause stinging!

Favorite of...

- Adults who suffer from restless legs syndrome at bedtime.
- Adults and children who struggle to find calmness in both body and mind.
- Children with restlessness due to growing pains.
- Adults and children who have frequent/involuntary nocturnal urination.
- Pregnant women with sleep problems.
- People prone to nocturnal muscle tension.

ingredients

Aqua, Magnesium Chloride, Aloe Barbadensis Leaf Extract, Cucumis Sativus Fruit Water, C12-15 Pareth-12, Caprylyl Glycol, Citric Acid**, Potassium Sorbate, Sodium Benzoate

98% natural ingredients

Contains 100 ml
Genbestilling af REST
Vi har købt REST for 2.gang da det er den eneste vi har fundet der hjælper på børnenes vokseværk i og mandens uro i benene. Derudover er det et hit på storby ferie hvor der kommer mange skridt i benene. Kan varmt anbefales.
Fantastisk produkt - Rest
Siden jeg har brugt rest, har jeg sovet så godt. Et fantastisk produkt. Kan anbefales til alle.
REST har en god virkning på uro og dårlig søvn.
Rest har en god virkning på dårlig søvn. Jeg smører mine arme med produktet,ca 3 sprøjt på hver arm. Hvad produktet egentlig gør ,det har jeg ingen ide om😘
Jeg håber der kommer en sampak med Rest og Relax.
Rest
Jeg har købt rest i forbindelse med nervebetændelse i mine ben, specielt fødderne. Jeg syntes at det hjælper når fodsålerne bliver smurt ind inden jeg skal sove. Den snurrende/prikkende fornemmelse forsvinder ikke helt, men bedre end hvis ikke jeg gør det.
Magnesiumspray
Har ingen mærkbar virkning på mine urolige ben
Det virker!
Jeg købte REST fordi jeg tit var øm i lænden. Nu lindrer det rigtig godt og det er skønt!
Fornem og hurtig levering.
Jeg modtog en meget fin pakke med et smukt personligt skrevet kort fra Cana. ren fornøjelse at modtage og hendes produkter er fan-tas-tiske. Både under og efter graviditet ☺️
Super oplevelse
Hurtig levering og lækkert produkt.
About this product
REST is a magnesium-rich serum that is sprayed directly onto the skin to promote calmness and well-being in both children and adults.

Because magnesium is a salt, it is easily absorbed through the skin, allowing you to add magnesium locally to the body where you feel the need.

With our unique combination of magnesium, Aloe vera and cucumber extract, REST is the perfect choice if you want effective and natural full-body relaxation before bedtime.

Magnesium is essential for keeping skin healthy and optimizing the skin's ability to repair itself. The skin's barrier is important to take care of, and by combining REST Magnesium Serum with the nourishing body oil EMBRACE, you're giving your skin the best possible conditions.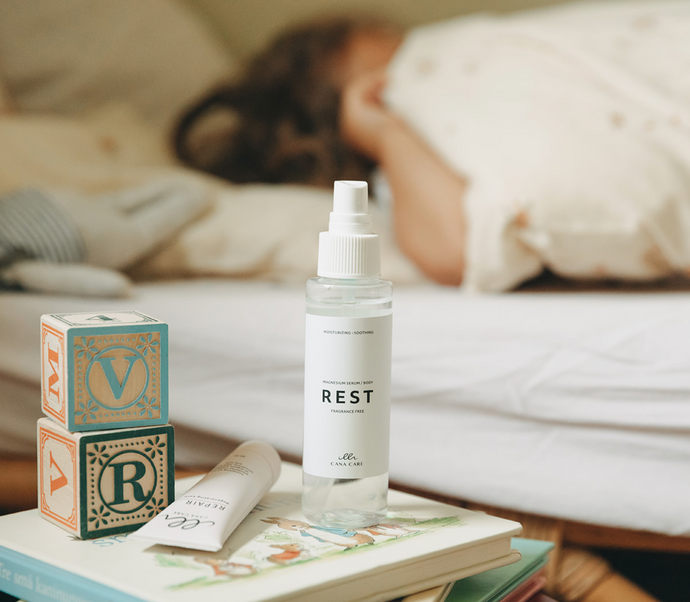 Studies show
In a user survey of 129 customers across Denmark, 93% experienced a significant improvement in their children's growing pains after using REST. The children primarily experienced that the soreness disappeared after gentle massage with REST, that they felt more calm, fell asleep faster and slept better throughout the night.