warmth-booster
A moisturizing roll-on with an intense warming effect. The product is applied directly onto the skin, where its high content of unsaturated fatty acids has good skin nourishing properties, while providing an immediate warming sensation that can relieve muscle tension, myalgia, menstrual cramps or other aches and pains.
Contains 50 ml
Hero ingredients

HELIANTHUS ANNUUS SEED OIL - A natural sunflower oil with a high content of lecithin and unsaturated fatty acids, which makes the oil nourishing and conditioning for the skin. Softens and forms a protective layer on the skin that helps to retain moisture.
VANILLYL BUTHYL ETHER - A warming agent that provides a gentle and long-lasting warming effect.

CAPSICUM ANNUUM FRUIT EXTRACT - Natural cayenne pepper extract that provides an intense warming sensation on the skin.

How to

- Shake the product before use.
- Always try the product on a smaller area of skin the first time. This is to ensure that you can tolerate the product. It's normal for the skin to turn slightly red where the product is rolled on, but redness outside the area is a sign of hypersensitivity. If the skin turns red, it is a clear sign that the product is working, and you will typically also notice a distinct warming effect.
- Roll on just a little to start with. If you lack effect, you can always add more.
- Feel free to use Heat on warm skin, for example after a hot shower. When the skin is warm, it is more receptive to the product. This is especially important if your skin does not easily absorb or respond to the product.
- If you want more heat, the warming effect can also be reactivated for up to 24 hours by adding other sources of heat, for example from a warm cloth or exercise. You can also try a minute with the blow-dryer for a real boost.
- If you want less heat, the warming effect can be reduced by adding oil to the area. This is also the best way to neutralize the product in the skin if you don't want any further warming effect.

Favorite of...

- People who suffer from daily or weekly muscle tensions.
- People with neck/back pain.
- People who wish to prevent the onset of tension headaches.
- Women with menstrual pain.
- People with a feeling of "stiff" or "cold" joints.
ingredients

Aqua, Pentylene Glycol, Helianthus Annuus Seed Oil,
Camphor, Glyceryl Stearate Citrate, Cetearyl Alcohol, Parfum, Glyceryl Caprylate, Capsicum Frutescens Fruit Extract, Vanillyl Butyl Ether, Tocopherol, 1,2-Hexanediol, Caprylyl Glycol, Carbomer, Sodium Hydroxide, Ascorbyl Palmitate, Limonene, Linalool.
Contains 50 ml
Fantastisk
Bruger Heat daglig til ømmeskuldre og nakke - er fantastisk - er også begyndt at bruge den til gigtfølsomme håndled👍💖
HEAT og RELAX giver jeg Top stjerner
Jeg har købt både HEAT og RELAX Magnesirum mange gange også til min familie vi er så for dem og de er så fantastiske jeg/vi bruger det hver dag og især HEAT det er så smart med at man bare ruller det på og RELAX spray det hvor man er øm tusinde tak for en bedre hverdag.
Mvh Pia
Super fin service, hurtig levering 😊
Så fint produkt og forsvarligt og smukt indpakket. Super service
Wauw! Fed varmeeffekt til min nakke
Skøn, skøn varmeeffekt til ømme muskler. Elsker den!
Genial !!
Denne roll on er simpelthen intet mindre end genial. Den varmer overraskende meget, når den er påført, og giver mig med det samme en følelse af at alle muskelspændiger forsvinder. Jeg har både et barn på 2 år der skal løftes og bæres, stillesiddende arbejde og elsker at strikke, så har meget ofte ømme skuldre og nakke.
Jeg modtog den i dag, og ved allerede at den bliver fast inventar hjemme hos os. Glæder mig til at prøve den på min kæreste, der også altid har ondt i muskler og led.
Derudover var der lynhurtig levering (modtog pakken dagen efter bestilling), og den er pakket rigtig fint ind. Fik derudover en lille roll on med i pakken, som jeg kan have med i min taske. Det er tydeligt at CanaCare prøver at forkæle kunderne, og det lykkes de 100% med.
Kæmpe anbefaling herfra!
Bedste produkt EVER!
Bedste produkt EVER!
Lindrer hurtigt spændinger og ømhed,giver en fantastisk varme. Og man mærker virkningen længe efter. Jeg bruger Relax om aftenen og Heat om morgenen,det virker så godt sammen.
Tak til Cana og Teamet i er fantastiske 🙏🏼
Kan ikke leve uden Heat ❤️
Heat er min redning hver dag, med kroniske smerter ❤️
Heat
Jeg sørger for altid at have en flaske heat med i tasken - den har reddet mig fra spændingshovedpine og nakke/skulderspændinger mange gange.
Er rigtig glad for den til mine nakke problemer.
Er rigtig glad for den til mine nakke problemer.
About this product
Whether your muscle soreness is located in your lower back after a day of poor posture due to work, in your neck, where it tends to manifest itself as a tension headache, or in your legs after a long run, Heat can help. With this moisturizing little heat booster, you'll quickly feel the heat spreading in and around the areas where you are feeling sore. The warming sensation will help you relax and give your body space to recover.
For most people, the warming effect will occur immediately after application and subside over a few hours, although it can be reactivated for up to 24 hours. Afterwards, the skin is left soft and supple.
Because Heat can cause a very intense sensation of warmth in some people, we sincerely advise against using it on children.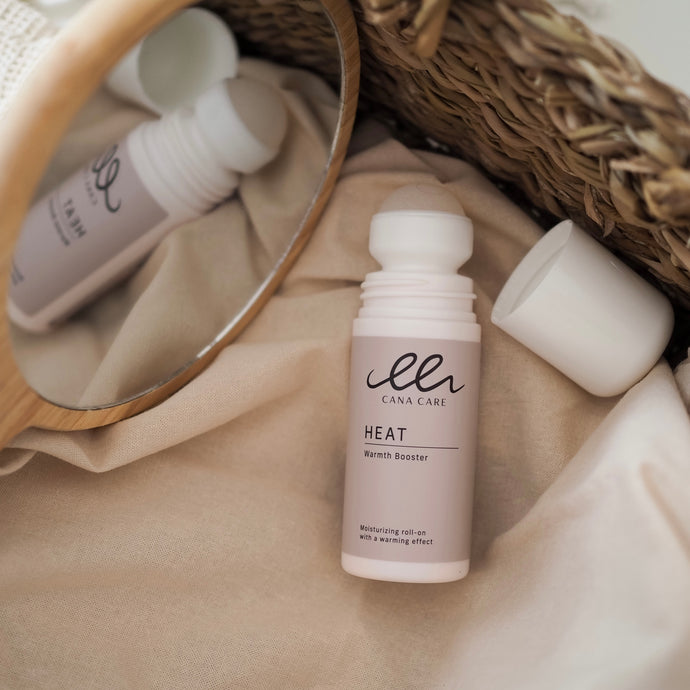 Studies show
In a user survey of 456 Cana Care customers, 94% of those who bought the product would recommend it to a friend. A total of 70% used HEAT at least 1-2 times a week - often daily. Of these costumers, everyone would recommend HEAT to a friend.