BLØDGØRENDE LÆBEBALM
100% natural, nourishing, and softening lip balm, specially developed to protect the sensitive skin on the lips.
LIPS helps maintain and improve the skin's natural barrier and moisture balance, undoubtedly helping you achieve the softest lips possible.
Hero ingredients


"ALMOND OIL - Excellent for very dry skin due to its pronounced moisturizing and softening effects. Rich in fatty acids, including omega-6 fatty acids, which help maintain and improve the skin's moisture levels. It penetrates deep into the skin, leaving it soft, smooth, and well-cared for. Almond oil has natural soothing properties that help alleviate skin irritation and inflammation. It can be beneficial for skin conditions like eczema, psoriasis, and itching. Due to its moisturizing properties, almond oil can help soften the skin.

LANOLIN - A unique ability to attract and retain moisture in the skin. When applied to the lips, lanolin forms a protective barrier that prevents moisture loss and helps keep the lips hydrated and soft. Lanolin has natural soothing properties that can help relieve dry and chapped lips. It can help reduce irritation and discomfort while speeding up the healing process for damaged lips. Lanolin has a rich consistency, making it ideal for softening and nourishing the lips. It penetrates deep into the skin and helps restore moisture balance while providing essential nutrients to the lips.

OAT OIL - Known for its soothing properties that can relieve itchiness, irritation, and redness in the skin. Rich in lipids, including phospholipids and triglycerides, which help maintain the skin's natural moisture and prevent dehydration. It also contains natural polysaccharides that form a protective film on the skin, contributing to reduced moisture loss. Anti-inflammatory properties: Oat oil contains avenanthramides, a natural compound with documented anti-inflammatory properties. Oat oil contains ceramides, which are important lipids naturally found in the skin's barrier. These ceramides help strengthen and rebuild the skin's barrier, which is crucial for maintaining healthy and protected skin. By improving the skin barrier, oat oil helps reduce moisture loss and protect the skin from harmful external factors. In addition, oat oil is rich in antioxidants, including tocopherols (vitamin E), phenolic acids, and flavonoids. These antioxidants help protect the skin from damage caused by free radicals and contribute to preserving the skin's youthful appearance.

SHEA BUTTER - Rich in unsaturated fatty acids. Shea butter has particularly skin-friendly properties, with softening and regenerating being the most important. It can retain moisture in the skin and leave a soft, fine film on the skin. Shea butter contains several substances, including cinnamic acid and lupeol, which can help reduce inflammation in the skin and alleviate symptoms of skin irritation or inflammation.

How to

Our natural, nourishing, and softening lip balm, LIPS, is the perfect solution to protect and care for the sensitive skin on your lips. It is specially formulated to maintain and improve the skin's natural barrier and moisture balance, resulting in soft and well-cared-for lips.
Gently open the container of LIPS lip balm. You can apply it directly from the tube or use your finger to spread a thin and even layer on your lips. Massage the lip balm gently into the skin.
Repeat as needed: LIPS can be applied as needed, preferably several times a day. Apply it when you feel your lips need extra moisture or protection. It can be particularly beneficial to use LIPS in the morning as part of your daily skincare routine and before bedtime to maintain the health and softness of your lips.
Favorite of...

LIPS is particularly good for...

- Those with a tendency to have dry lips.
- Those who experience lip peeling or cracking.
- Anyone who wants to maintain healthy and well-cared-for lips.
ingredients

Lanolin, Cocos Nucifera Oil, Prunus Amygdalus Dulcis Oil, Cera Alba, Avena Sativa Kernel Oil, Butyrospermum Parkii Butter, Hydrogenated Vegetable Oil, Tocopherol, Helianthus Annuus Seed Oil.
100% natural ingredients

Contains 15 ml
Helt fantastisk produkt
Det kan siges meget kort : Piv lækkert produkt.⭐
Dufter lækkert, er silkeblødt at smøre på, efterlader læberne bløde og let fugtige.
Jeg er kæmpe fan, det er jeg i øvrigt af alle produkterne fra Cana Care ⭐⭐⭐⭐⭐
Lip balm
Den lækreste Lip balm der giver meget fugt og holder længe på.
Kæmpe fan 👍🏼
Super skøn læbepomade 😍
Den er så dejlig at smøre på og den klister ikke på
Mine læber ❤️ jeg bruger den hver eneste dag
Skøn læbepomade!
Læbepomaden er så behagelig at smøre på og så fungerer dem som den skal! Den vil være en fast del af tasken fremover
En del af mit faste sortiment ⭐⭐⭐⭐⭐⭐
Fantastisk lip balm der trænger hurtigt ind i læberne. Efter få dages brug var de helt igennem gennemfugtet, bløde og lækre.
Det er den eneste lip balm der har sørget for at jeg ikke har pillet i mine læber grundet tørhed. Den er så lækker i brug, at den ikke behøves at påføres konstant. Jeg har i mange år ledt efter den perfekte læbepomade eller balm - den har jeg fundet nu, og den er helt klart en del af mit faste sortiment.
Virkelig god
Det er den skønneste lip balm - mine læber er på få ganges brug blevet så dejlige bløde.
Lips
Dejligt, fugtgivende læbebalm.
Den har en god konsistens og efterlader læberne bløde.
LIPS
Lækker let læbebalsam, meget drøj i brug og klistrer ikke.
Super god læbebaæsam
Rigtig god og lækker læbebalsam, fedter ikke og efterlader ens læber lækre og bløde. er rigtig god til læber der er meget tørre.
About this product
Discover our exclusive lip balm - a nourishing and softening balm specially designed to protect the sensitive skin on your lips. With our lip balm, you get the ultimate care and protection for your lips.

Our lip balm actively works to maintain and improve the skin's natural barrier and moisture balance. By forming a light physical barrier on the skin, it effectively reduces moisture evaporation from the skin's surface. This leaves your lips well-hydrated and well-cared for for a longer duration.

We understand the importance of keeping your lips supple and healthy. That's why our lip balm is formulated with carefully selected natural ingredients. We have omitted unnecessary additives and chosen only the best raw materials to ensure that you receive the most natural care for your lips

Whether you are facing challenges such as dryness, chapped lips, or simply want to maintain lip softness, our lip balm will be your faithful companion. It has a light and pleasant texture that glides effortlessly on the lips without leaving a greasy or sticky feeling.

Pamper your lips with our nourishing lip balm and give them the attention they deserve. Make it a part of your daily beauty routine and enjoy the positive results of healthier, softer, and more beautiful lips. Experience the power of nature and let our lip balm be your reliable partner in keeping your lips in top condition.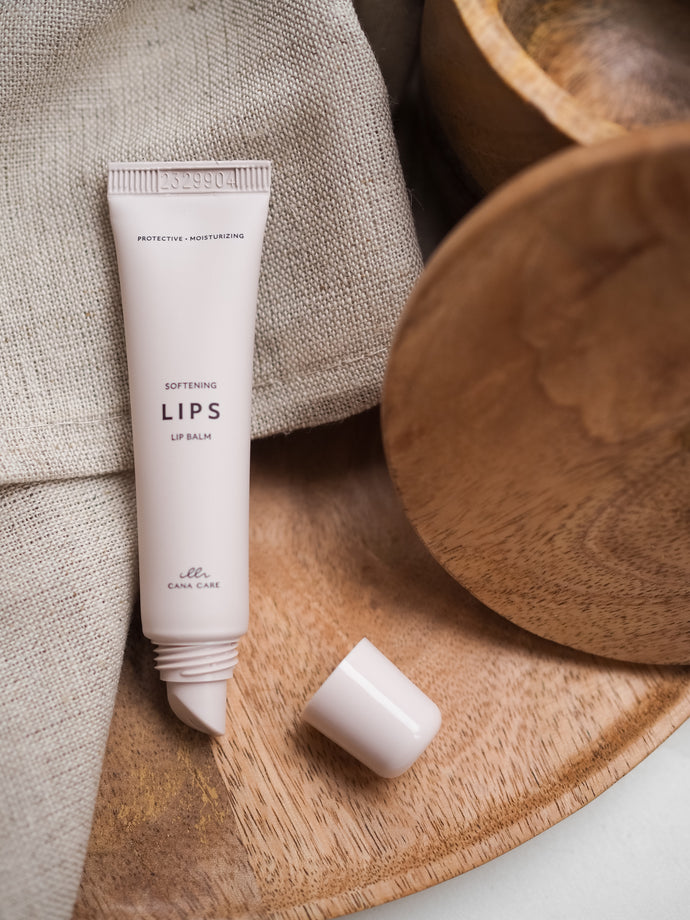 Studies show
In a user survey conducted in the autumn of 2023, it was found that 94% experience that LIPS makes a positive difference for dry and cracked lips. And a full 96% experience that it provides soft lips.