Nourishing balm
An emollient balm for sensitive and irritated skin.
Packed with emollient, natural and organic oils that repair and moisturize the skin. Great for relieving itching, irritation and excessive dryness.
This product does not contain perfume.
Hero ingredients

SHEA BUTTER - Rich in unsaturated fatty acids. Shea butter has extremely skin-friendly properties, the most important of which are softening and regeneration. It helps to retain moisture in the skin and leave a soft, fine film on the surface of the skin. Shea butter contains several components, including cinnamic acid and lupeol, which can help reduce inflammation in the skin and relieve symptoms of skin irritation or inflammation.
OAT KERNEL OIL - known for its soothing properties that can relieve itching, irritation and redness of the skin. Rich in lipids, including phospholipids and triglycerides that help retain the skin's natural moisture and prevent dehydration. It also has natural polysaccharides that form a protective film on the skin and contribute to reducing moisture loss. Anti-inflammatory properties: Oat kernel oil contains avenanthramide, a natural compound with proven anti-inflammatory properties. Oat kernel oil also has ceramides, which are important lipids that are naturally found in the skin's barrier. These ceramides contribute to strengthening and rebuilding the skin barrier, which is essential for maintaining healthy and protected skin. By improving the skin barrier, oat kernel oil helps to reduce moisture loss and protect the skin from harmful external factors. In addition, oat kernel oil is rich in antioxidants, including tocopherols (vitamin E), phenolic acids and flavonoids. These antioxidants help protect the skin from damage from free radicals and contribute to maintaining the skin's youthful appearance.
PLANTAIN EXTRACT - Plantain is known for its anti-inflammatory properties, which means it can help reduce inflammation in the skin. It can be useful for treating or relieving various skin problems. Plantain has soothing and healing properties that can help relieve itching, irritation and redness of the skin. It can also speed up the healing process of minor wounds, including scrapes, cuts and sunburns. Plantain contains natural antioxidants, including phenolic acids and flavonoids, which can help protect the skin from damage caused by free radicals. This can contribute to maintaining skin health and a youthful appearance. Furthermore, plantain has moisturizing properties that can help maintain the skin's natural moisture balance. It can be useful for preventing dehydration and keeping skin hydrated and soft.
How to

Squeeze a small amount out of the tube, for optimal hygiene, preferably on the back of your hand, and gently apply it to the affected area. Use as needed, several times a day if desired. Good for all skin types – and can be used at any age.
Favorite of...

Repair is especially beneficial for:
- Red and irritated skin.
- Extremely dry skin.
- Cracked fingertips.
- Breastfeeding (does not need to be washed off).
- Relief after mosquito bites.
- Rashes from stinging nettles.
- Scrapes.
- Red bumps in the bikini line.
- Dry lips.
- Thighs rubbing against one another.
- Redness under larger busts.
- Atopic skin.
- Eczema

ingredients

Prunus Amygdalus Dulcis Oil, Sesamum Indicum Seed Oil, Cocos Nucifera Oil, Hydrogenated Vegetable Oil, Oryza Sativa Cera, Butyrospermum Parkii Butter, Diisostearoyl Polyglyceryl-3 Dimer Dilinoleate, Glycerin, Plantago Lanceolata Juice, Avena Sativa Kernel Oil, Rosa Canina Fruit Extract, Olea Europaea Oil Unsaponifiables, Aqua, Tocopherol, Helianthus Annuus Seed Oil, Sodium Benzoate, Lactic Acid**, Potassium Sorbate.

99,97% natural ingredients

Contains 30 ml
Uundværlig her til vinter
Fantastisk til tørre , skallende røde næser og kinder her i vinterkulden. Jeg og resten af familien er virkelig glad for salven.
God allround "lille hjælper".
Jeg er sikker på, den lille hjælper vil komme på mange forskellige opgaver i vinterens løb. Den lover godt allerede!
Repair - uundværlig
Jeg bruger Repair til alle slags hudirritationer og til tør hud i vinterhalvåret. Elsker den særligt til min ekstremt sarte hud i ansigtet!
Lækkert produkt
Kan bruges til rigtig mange formål og virker super godt
Det er et lækkert universalmiddel
Jeg kendte godt til salven. Sidste vinter var den fast inventar i lommen når jeg var på job som pædagog i børnehave. Sprukne læber og hud der var rød og revnet af kulde er den bare rigtig god til. Jeg er lige blevet farmor til en lækker lille dreng. Sidst de var her havde den lille fyr rød numse. Jeg fandt salven frem og far og mor har udtrykt stor begejstring for resultatet. Så de fik selvfølgelig resten af tuben.
Jeg blev glædeligt overrasket over den nye tube (emballagen). Jeg synes den nye emballage virker mere ren og delikat.
Så godt
Elsker den creme den er fantastisk 🙏👍
Effektiv
Bruger den på rød tør plet som nu er ved at være væk har prøvet andre creme før uden effekt. Repair virker
About this product
Repair from Cana Care is an excellent all-purpose ointment. It softens the skin and increases its natural suppleness.
This emollient ointment contains shea butter and various natural and organic oils that work together to create a barrier that protects the skin and preserves its natural moisture. The high content of vitamin E protects skin cells from oxidative stress, thereby increasing the skin's antioxidant defense. Vitamin E contributes to the protection and repair of the skin. In addition, the omega-3 and omega-6 fatty acids in the rosehip oil help to strengthen the skin. This allows the skin to recover quickly from dryness or damage.
The real secret behind the amazing effect, however, can be found in our local heroes: oats and plantain, that each have great anti-inflammatory, antioxidant and healing properties.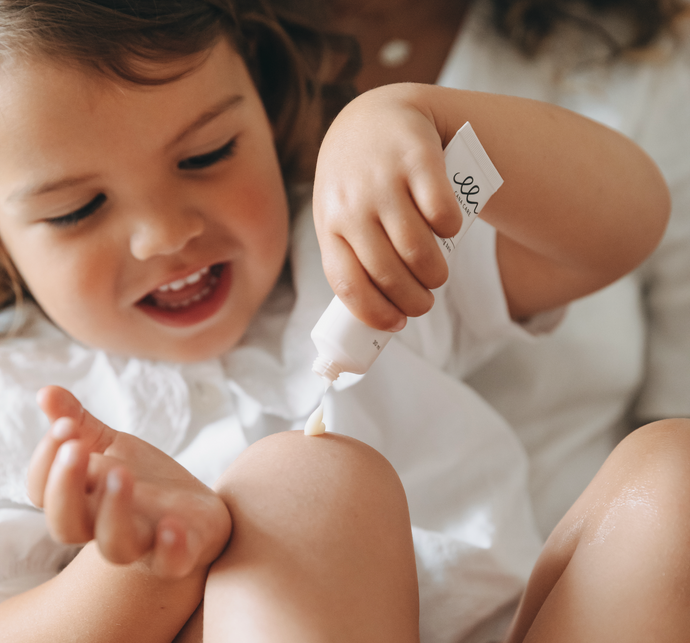 Studies show
Plantain, one of our local heroes, has been used traditionally to promote wound healing and relieve skin irritation. A 2014 study published in Natural Product Research found that plantain leaf extract had significant wound healing properties and could help speed up the healing process. This is one of the reasons why Repair is so incredible!