Nourishing Hand Cream
A soft and moisturizing hand cream that is easily absorbed and provides your hands with optimal care.
Packed with great, natural and organic ingredients that absorb quickly and help your hands to become - or stay - nice and soft. It takes effect immedi
Hero ingredients

SHEA BUTTER - Rich in unsaturated fatty acids. Shea butter has extremely skin-friendly properties, the most important of which are softening and regeneration. It helps to retain moisture in the skin and leave a soft, fine film on the surface of the skin. Shea butter contains several components, including cinnamic acid and lupeol, which can help reduce inflammation in the skin and relieve symptoms of skin irritation or inflammation.


ARGAN OIL - Rich in essential fatty acids, including omega-6 and omega-9 fatty acids. These nutrients help to maintain and improve your skin's moisture levels, resulting in more hydrated and nourished skin. Argan oil has natural soothing properties and can help relieve irritation and calm sensitive skin. Due to its high levels of vitamin E, it has healing properties that can help soothe minor wounds, sunburns and eczema.
ALMOND OIL - Rich in fatty acids, including omega-6 fatty acids, which help maintain and improve skin's moisture levels. It penetrates deep into the skin, leaving it soft, smooth and nourished. Almond oil has natural soothing properties that help relieve skin irritation and inflammation. It can be beneficial for skin conditions such as eczema, psoriasis and itchiness. Due to its moisturizing properties, almond oil can help soften the skin.
ALOE VERA - Known for its soothing and cooling properties. Aloe Vera provides protective layer that retains moisture in the skin and has been used for centuries to moisturize, restore and soften the skin. Aloe vera is perfect for blemished, irritated and dry skin.

PLANTAIN EXTRACT - Plantain is known for its anti-inflammatory properties, which means it can help reduce inflammation in the skin. It can be useful for treating or relieving various skin problems. Plantain has soothing and healing properties that can help relieve itching, irritation and redness of the skin. It can also speed up the healing process of minor wounds, including scrapes, cuts and sunburns. Plantain contains natural antioxidants, including phenolic acids and flavonoids, which can help protect the skin from damage caused by free radicals. This can contribute to maintaining skin health and a youthful appearance. Furthermore, plantain has moisturizing properties that can help maintain the skin's natural moisture balance. It can be useful for preventing dehydration and keeping skin hydrated and soft.
How to

Open the container and apply a suitable amount of hand cream to your fingertips. Be generous with the amount you apply. Start by distributing the hand cream on your palms. Massage it in gently so that it absorbs deep into the skin. Continue to massage and distribute the hand cream on the top of your hands, between your fingers and on your fingertips. Make sure to cover all areas thoroughly. Use circular motions and massage for a minute or so to ensure the hand cream is fully absorbed and penetrates the skin. You will immediately notice how your hands feel soft and nourished. They will feel moisturized and smooth without feeling sticky or greasy.
Repeat as needed. SOFT can be used several times a day whenever you want to give your hands a little extra care and moisture.

Favorite of...

SOFT is especially suitable for anyone who

- deals with dry or rough hands.
- washes their hands frequently, for example healthcare professionals.
- wants to give their hands the best possible care on a daily basis.
- enjoys using a soft and fragrant hand cream on their hands.

ingredients

Aqua, Magnesium Chlorid, Aloe Barbadensis Leaf Juice, Cucumis Sativus Fruit Water, Caprylyl Glycol, Citric Acid, Potassium Sorbate, Sodium Benzoate.
98% Natural ingredients

Contains 75ml
Virkelig lækker creme. Jeg ville dog ønske, at den var parfumefri.
Virkelig lækker creme. Jeg ville dog ønske, at den var parfumefri.
Endnu et fantastisk produkt
Jeg ejer efterhånden samtlige af Canas produkter, og nogle af dem har jeg også flere af. De bliver brugt af hele familien og til gaver. Denne nye håndcreme skuffer bestemt ikke.
Bedste jeg har prøvet
Virkelig god. Den bedste jeg har prøvet længe.
Fantastiske produkter
Fantastiske produkter. Hurtig levering
Den bedste håndcreme
Jeg var så heldig at få lov til at teste håndcremen i flere uger og den er virkelig virkelig lækker. Cana Care har gjort det igen :) de har lavet endnu et lækkert produkt man ikk kan undvære i sin hverdag <3
Den har en skøn mild duft, gør ens hænder dejlig bløde og det vigtigste - den fedter ikk :)
Sikke en skøn duft
Soft er en rigtig lækker håndcreme med en virkelig virkelig skøn duft. Den er nem at bruge, da den trænger lynhurtigt ind og den fedter på ingen måde, hvilket er et kæmpe plus når man smører hænderne mange gange dagligt. Stor anbefaling herfra.
Lækker håndcreme
Endnu en Cana Care favorit. Med håndcremen er det slut med tørre hænder efter hyppig håndvask og håndsprit. Som bonus kan nævnes, at den trænger super hurtig ind - så du er klar til at "komme videre" med det samme !
About this product
SOFT Hand Cream is specially formulated to provide intense moisture and care for your hands. With its lightweight and fast-absorbing formula, it can be easily applied anytime, anywhere. Whether you're busy in the morning, in the middle of work or want to end the day with hands that are well-cared for, SOFT is the perfect choice.

When you apply a generous amount of lotion to your hands, SOFT will nourish and moisturize your skin. It contains carefully selected ingredients that help maintain the skin's natural moisture balance and softness. You will immediately notice how your hands feel silky soft and nourished.

Forget the hassle of sticky or greasy hand creams that take a long time to absorb. SOFT Hand Cream is designed to give you instant relief and care without leaving an unpleasant feeling on your hands. Apply generously and watch your hands soak up the nourishing ingredients in an instant.

With SOFT Hand Cream you can pamper your hands and still have time for everything else.

Enjoy the feeling of well-cared for and soft hands in no time.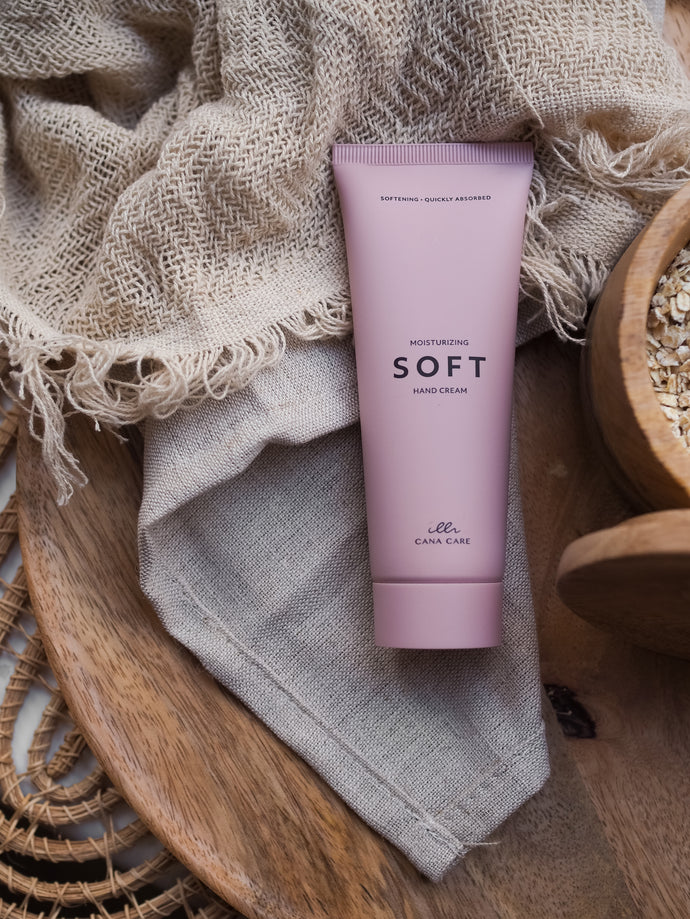 Studies show
A user test of SOFT yielded the following results:

- 100% experience that it provides soft and well-cared-for hands.
- 96% experience that it absorbs quickly.
- 100% would recommend it to a friend.