Magnesium serum
A moisturizing and nourishing serum that is sprayed directly onto the skin for better balance and a sense of well-being. Rich in magnesium, which in addition to being an important contributor to skin maintenance, is also known to help reduce tiredness, muscle soreness, fatigue and stress.
This product does not contain perfume.
Hero ingredients

MAGNESIUM
This salty mineral is an important contributor to skin maintenance. In addition to supporting the skin's natural balance, magnesium also contributes to hundreds of different processes in the body. Among other things, magnesium is essential for muscle restitution, bone and teeth maintenance and as a catalyst for optimal calcium absorption in the body. You can read much more about magnesium HERE.

ALOE BARBADENSIS LEAF EXTRACT
This (organic) Aloe vera has excellent moisturizing properties and helps to maintain a healthy moisture balance in the skin and thereby a healthy skin barrier. Due to its brilliant reputation and great benefits, Aloe vera has been used in cosmetics and skincare for many years and has become a symbol of health and well-being.

CUCUMIS SATIVUS FRUIT EXTRACT
An (organic) cucumber extract. Cucumber extract is known for its moisturizing properties. It can help improve skin hydration by adding and retaining moisture, which can be beneficial for dry and dehydrated skin. Cucumber extract has a natural soothing and cooling effect on the skin. It can help reduce redness, irritation and sensitivity and relieve sunburn or skin irritation caused by external factors. Cucumber extract contains active compounds including flavonoids and antioxidants that have proven anti-inflammatory properties. This can be helpful in reducing inflammation in the skin and relieving conditions such as acne, eczema or rosacea.

How to

Use two or three sprays on the area you want to add magnesium to and massage it thoroughly into the skin.
Use RELAX after your post-workout shower, as it is most effective when used on clean skin to replenish magnesium levels in the body.
Some people may experience a slight tingling sensation on their skin; this is due to the high salt content and is not at all dangerous – quite the opposite. To reduce the tingling sensation, you can apply the product to wet skin and apply a mild lotion or nice oil afterwards.
NOTE: Do not use the product on cuts/wounds or freshly shaved legs - it stings terribly due to the salt!

Favorite of...

- People who exercise a lot and want to optimize their performance through improved recovery.
- People who want to start a training program and wish to get off to a good start without unnecessary muscle tension.
- People with a tendency to experience muscle tension.
- People with a tendency to have myalgia.
- People with diffuse body aches and pains.

ingredients

Aqua, Magnesium Chlorid, Aloe Barbadensis Leaf Juice, Cucumis Sativus Fruit Water, Caprylyl Glycol, Citric Acid, Potassium Sorbate, Sodium Benzoate.
98% Natural ingredients
Contains 100 ml
Jeg er meget tilfreds med produktet. Hjælper virkelig.
Relax anvendes om aftenen, hvor jeg får det smart på min ryg . Jeg har efter et sammenfald i ryggen en del muskelspændinger. Jeg oplever mindre smerte ved brug af relax, ligesomnin søvn bliver mindre urolig.
Kan varmt anbefale produktet.
Kathe Baumgardt
Det virker 😊
Jeg købte Relax for et par uger siden, og må erkende at jeg var lidt skeptisk. Jeg har nu brugt Relax i forbindelse med spændinger i nakke og øverste del af ryggen flere gange, og det virker 👍 der går ikke længe efter at jeg har brugt sprayen til at jeg kan mærke at spændingen letter.
Virker fantastisk 🌼
Bruger den på mine ømme skuldre og urolige be. Og den virker fantastisk 🤩
Elsker den!
Den hjælper mig hver dag. Jeg har fibromyalgi og de låste muskler var et kæmpe problem, men med Relax kan jeg droppe 9/10 af de muskelafslappende piller.
Ingen effekt desværre
Fedter meget og gav desværre ingen effekt.
Relax
Det kan ikke undværes i vores hjem. Døjer med krampe og uro I ben om natten.
Relax
Fuldstændig uundværlig, 5 stjerner herfra
Bedste hilsner Pernille
About this product
Relax is a magnesium-rich serum that is sprayed directly onto the skin to contribute to natural relaxation and promote overall well-being.
Since magnesium is a salt, it is easily absorbed through the skin, allowing you to add magnesium locally to the parts of the body where you most feel the need.
With a content of more than 50% magnesium, RELAX is the obvious choice if you want effective and natural relaxation of the entire body, even after the hardest workout.
Magnesium is essential for keeping skin healthy and optimizing the skin's ability to repair itself. The skin's barrier is important and if you combine RELAX Magnesium Serum with the nourishing body oil, EMBRACE, your skin will receive the best conditions to thrive.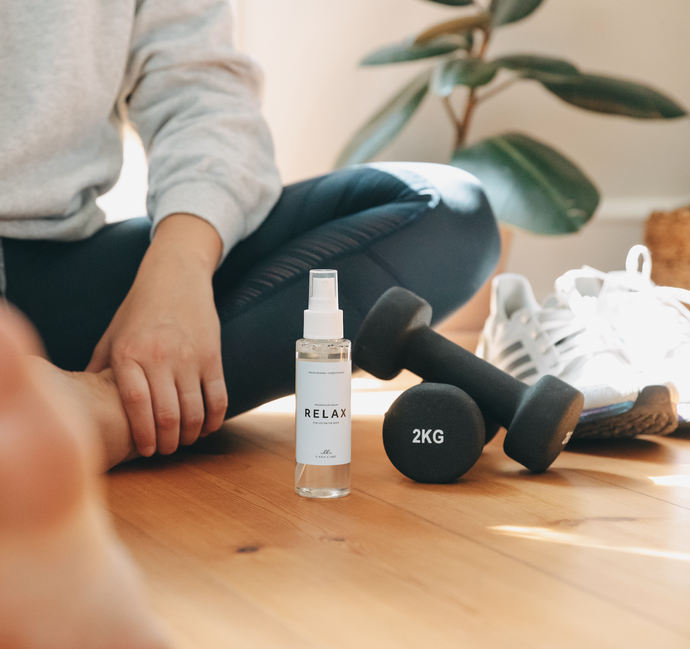 Studies show
In a survey of female personal trainers across Denmark, 92% experienced a significant improvement in terms of less muscle tension, soreness and restlessness when using RELAX after exercise. They would all recommend that their clients also use RELAX in connection with exercise.