Nourishing Foot Cream
A soft and moisturizing foot cream that is easily absorbed and provides your feet with optimal care.
Filled with great, natural and organic ingredients that quickly sink into the skin and contribute to nice, soft and well-groomed feet. It takes effect immediately.
Hero ingredients

ALOE VERA - Known for its soothing and cooling properties. Aloe vera provides a protective layer that retains moisture in the skin and has been used for centuries to moisturize, restore and soften the skin. Aloe vera is perfect for blemished, irritated and dry skin.

SHEA BUTTER - Rich in unsaturated fatty acids. Shea butter has extremely skin-friendly properties, the most important of which are softening and regeneration. It helps to retain moisture in the skin and leave a soft, fine film on the surface of the skin. Shea butter contains several components, including cinnamic acid and lupeol, which can help reduce inflammation in the skin and relieve symptoms of skin irritation or inflammation.

ARGAN OIL - Rich in essential fatty acids, including omega-6 and omega-9 fatty acids. These nutrients help to maintain and improve your skin's moisture levels, resulting in more hydrated and nourished skin. Argan oil has natural soothing properties and can help relieve irritation and calm sensitive skin. Due to its high levels of vitamin E, it has healing properties that can help soothe minor wounds, sunburns and eczema.

PLANTAIN EXTRACT - Plantain is known for its anti-inflammatory properties, which means it can help reduce inflammation in the skin. It can be useful for treating or relieving various skin problems. Plantain has soothing and healing properties that can help relieve itching, irritation and redness of the skin. It can also speed up the healing process of minor wounds, including scrapes, cuts and sunburns. Plantain contains natural antioxidants, including phenolic acids and flavonoids, which can help protect the skin from damage caused by free radicals. This can contribute to maintaining skin health and a youthful appearance. Furthermore, plantain has moisturizing properties that can help maintain the skin's natural moisture balance. It can be useful for preventing dehydration and keeping skin hydrated and soft.
How to

Pamper your feet with Treat Foot Cream, which can be used at all times, whether it's in the morning after a shower, in the afternoon when you come home tired from work, or after a nice, warm foot bath. Treat Foot Cream will contribute to soft and well-groomed feet in no time at all. It absorbs so quickly that it never becomes a time-consuming "project", as many people might know it from using traditional foot creams.

Apply the cream to your feet and they will soak up all the good ingredients in no time, leaving you free to concentrate on other things.

Favorite of...

Individuals with dry or cracked skin on their feet can generally benefit from using TREAT on a daily basis.

Additionally:

Diabetics: Diabetics may have an increased risk of foot problems due to reduced blood circulation and diminished sensation in their feet. A good foot cream can help maintain healthy skin and prevent sores and infections.

People with standing occupations: Individuals who spend a lot of time on their feet, such as healthcare workers, retail employees, and chefs, may experience increased foot strain. A softening and healing foot cream can relieve fatigue and prevent the formation of calluses.

Athletes or sports enthusiasts: People who are active and regularly participate in sports or physical training may experience foot strain and wear. A nourishing foot cream can help keep the skin soft and prevent the formation of blisters and rough areas.
ingredients

Aqua, Aloe Barbadensis Leaf Extract, Butyrospermum Parkii Butter, Glyceryl Stearate, Glycerin, Cetearyl Alcohol, Argania Spinosa Kernel Oil, Pentylene Glycol, Sesamum Indicum Seed Oil, Plantago Lanceolata Leaf Extract, Tocopherol, Ceteareth-12, Ceteareth-20, Phenoxyethanol, Parfum, Carbomer, Citral, Benzoic Acid, Sodium Hydroxide, Dehydroacetic Acid, Limonene, Geraniol, Linalool, Citronellol, Sodium Metabisulfite, Potassium Sorbate

96% natural ingredients

Contains 100 ml
Lækre produkter
Fodcremen er den bedste jeg nogensinde har haft.
Efter at have testet Treat fra Cana Care, har jeg fået et næsten nyt yndlings produkt. Lige som Heat og Relax har været en life saver i vores familie med ømme fodbold og danse ben hos børnene og en altid træt lænd hos mig, har Treat redder mine fødder da jeg vandrer meget. Den dufter himmelsk af citrus, den er drøj i brug og trænger hurtigt ind og mindsker hår hud, revnede hæle, og bedst af alt har den blødgjort et operations ar, så mængden af arvæv er minimal.
Tak for endnu et fantastisk produkt til samlingen ❤️
Venlig hilsen Joan
Treat.
En lækker creme, men jeg havde foretrukket, at den var uden parfume.
Som at svæve på en sky
Treat er fantastisk til at give bløde fødder.
Jeg startede selv med at bruge det, og fik min mor på 83 år til at starte en rutine.
Treat har sammen med Repair sikret at de huller min mor havde på benene forsvandt, og hun kan undgå at skulle have fjernet hård hud.
Senest gav jeg treat til en veninde og hun sagde at hun aldrig har haft så bløde fødder.
Bedste fodcreme jeg har prøvet
Jeres fodcreme holder alt hvad den lover!
Den er drøj i brug, dufter ren (og slet ikke af kamfer som rigtig mange andre fodcremer gør), den er allergivenlig, den gav mig bløde fødder allerede efter første gang og den suger hurtigt ind uden af efterlade en hinde. Jeg havde på intet tidspunkt en fornemmelse af at glide rundt hverken på gulv eller i sokkerne.
Fodcremen der smelter hård hud væk
Fodcremen har en forfriskende mild duft af citrus, er let at smørre ud og trænger lynhurtigt ind, min hud er på bare 8 dage mindre tør og støvet, også der hvor jeg har eksem. Og så ved jeg ikke hvad den creme indeholder, men det er som om den smelter hård hud væk!! Kæmpe anbefaling herfra👌
Bedste fodcreme
Jeg har testet fodcremen fra Cana Care, det er den til dato bedste fodcreme jeg har prøvet.
Den dufter dejligt, er let at fordele og trænger hurtigt ind. Og vigtigst af alt så gør den fødderne bløde.
Jeg har fundet den fodcreme der fremover skal pleje mine fødder.
Kærlig hilsen Lene
Det er virkelig ikke mine fødder, jeg har givet meget opmærksomhed førhen. Men må sige, at der er en stor velvære i, at give noget kærlighed til områder, der ellers ikke får så meget. Jeg er særligt vild med, hvor lidt der skal til - en hurtig omgang creme inden sengetid; bløde, velduftende fødder hele næste dag. Tak fordi jeg måtte prøve cremen!
Endnu et fantastisk produkt fra Cana Care
Er netop færdig med at teste Treat fodcremen fra Cana care. Jeg har prøvet mange forskellige fodcremer, både dyre og billige, men har altid droppet det igen, da jeg synes mine fødder blev klistrede og var evigheder om at tørre.
Men med Treat tror jeg, at jeg har fundet en "keeper". Den giver bløde og velplejede fødder, har en lækker duft og giver en følelse af at gøre noget godt for en selv.. og så trænger den lynhurtigt ind... Totalt win win.
Endnu et genialt produkt fra Cana care.
About this product
With its lightweight, yet highly moisturizing formula, TREAT is the obvious choice if you want to keep your feet feeling fresh - every day. It absorbs quickly into the skin, allowing you to use it in the morning without leaving grease stains all over the floor.


Aloe vera and shea butter give the cream its moisturizing properties, while the argan oil content boosts the natural healing process. The secret behind this brilliant formulation is our local hero plantain extract, which has great healing properties that you simply won't want to be without in your foot care routine whether you're dedicated to doing it every single day, or rather on a weekly or monthly basis.

In all modesty, TREAT is probably the best foot cream in the world. At least according to us and many of our customers.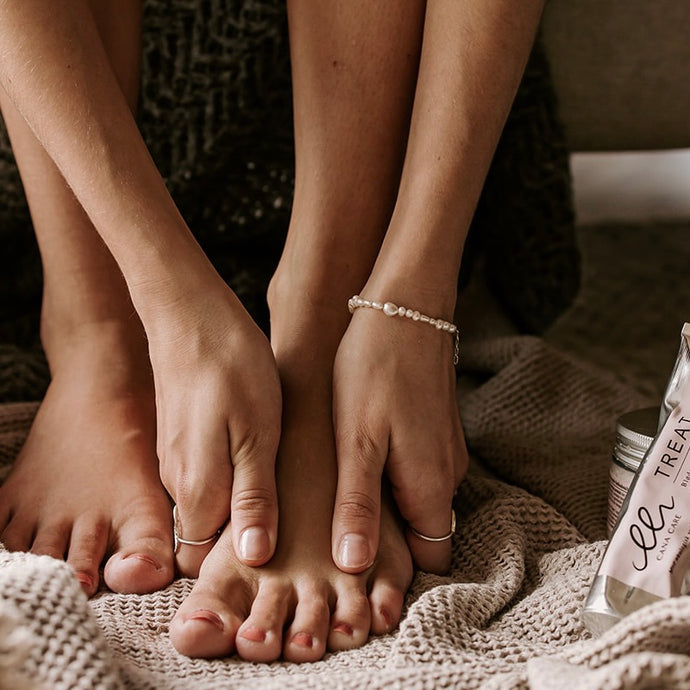 Studies show
Several studies indicate that aloe vera has anti-inflammatory and wound-healing properties that can help soothe irritation and promote the healing of minor skin lesions. This can be relevant for caring for cracked heels or dry feet. Aloe vera has also shown moisturizing properties that can help prevent skin from drying out and peeling.